Blog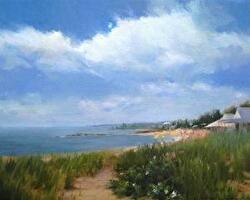 Last day of the workshop in Saline. Thank you Margie, Cindy, Gaines from Two Twelve Arts and the painters who participated in this workshop. I really enjoyed teaching this group of artists. Each one a talented and dedicated painter, had their own voice come out through their work. This is always the goal of art...to fuse what's being depicted with who's doing the depicting. To be able to allow our inner self to show in our work is a gift that I was honored to see in each of the students paintings!
For my demo, I did a seascape of Connecticut. I think it's successful because now I wish I were there again. This longing has me excited to get back into my studio to start my series from my trip to Connecticut and the east coast. I'm glad I'm able to connect to this emotion when working in my studio. The distance from the east coast makes me yearn for it in a way that shows up in the paintings and creates a strong emotional pull in my work. There is the need to balance the studio painting with plein-air work to be able to fill in what a photograph doesn't tell me or to be able to edit a detailed photo. But as long as the place is personal to me, I will carry this "feeling" with me as I create and hopefully share my inner feel for the places I choose to paint.
I'm bummed the workshop is already over tomorrow but Two Twelve Arts will be hosting another one with me in October, and I hope to see these same artists and some of the other talented artists in the area!

It's so great to be an artist, and don't we know it!!!!